The last few weeks have one big ball-o-hectic. So much so that I haven't even written about my little milestone. Yep, I turned the big 4-0...FOUR-OHHHH...FOUR-dee...hehehe :-D
I've heard of people feeling weirdness about this birthday for them. So far, I don't get it. It's a number. I'm healthy (fairly so, even w/ stupid thyroid issues) and pretty danged happy :-D Sure, the purple isn't covering some of those grays that insist on popping up here and there, but still, who cares? I'm just as goofy and off-the-wall as ever.
Here are my gratitudes at my ripe ol' age of (did I mention?) FORTY:
*I get to work on my art whenever I want.
*I've got a pretty good business that I enjoy.
*Said business doesn't make me rich, just comfortable.
*I've got two monkeys, who at just about 15 yrs old, have their teen-tudes, but are overall great kids.
*A husband who treats me like a goddess.
*Sense of Humor...sometimes I need this to get me through rough spots. You know what they say, "Laughter is the best medicine". :-D
There's a bunch more stuff, but those are the main things that popped into my head.
So wanna know how I celebrated? Well, when Chris asked me what I wanted to do, I asked him to throw me a party. I haven't had a birthday party since we've been married. Normally, I just like us to do something together. This year I wanted to do something really fun since...well, I'm "FOUR-dee". So I asked him to incorporate a couple of things I dig. Star Wars and Monkeys.
Check out the theme to said party. "Curious George Lucas" Bday. hahaha!!
All the decorations were Curious George and Star Wars themed. There was even a crazy balloon fight that the kids all had in the living room. There was alcohol for the adults, but after the party, we realized that not very much had been drank. All that laughter was from pure fun!
My "cake"...Chris baked cupcakes and the girls decorated them: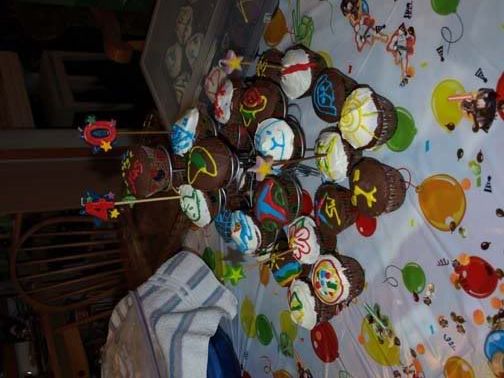 The Balloon fight: (from Marinna's camera)
http://youtube.com/watch?v=1rtv5FVtZbM
It was great celebrating with friends and family.