You know, this blog thing is pretty cool. I'm just updating as I go along and I can post new stuff happening along the way w/ a simple point, click, type, hit return. Sweet!
Today I saw this vid clip of this amazing 12 yr old artist (
http://tinyurl.com/yxewot
). The detail in her paintings are just incredible...far surpasses any detail I can get in my landscapes. She captures light, emotion and movement so well in her work, I'm just floored. There's a great spirituality that comes out in each of her pieces that you feel a sense of peace and serenity. I just wanted to share that w/ anyone who's reading this blog of mine.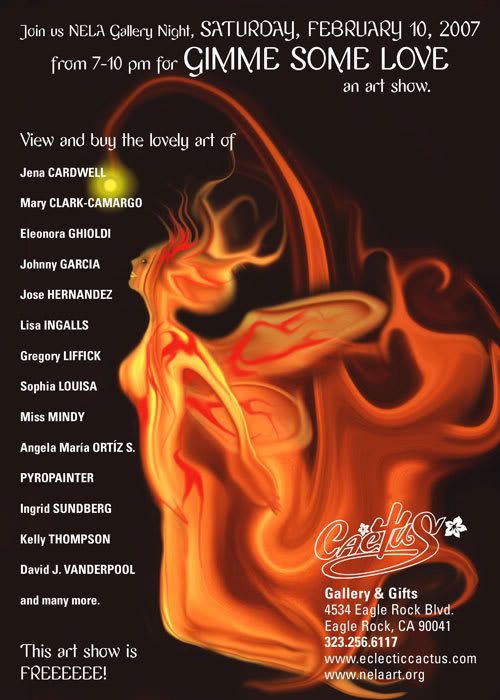 Great update for yours truly. I've got a group show scheduled up in Eagle Rock. The opening night is set for next Saturday, Feb. 10. Check out the Evite below. Yeah, my name isn't on there. It's my fault, I got my info in a little late, but they still took me in. I'll have 3 pieces in the show so I'm stoked about it.
I've got a couple of pieces being juried for another Women's show, too, but they're still judging all the artwork submitted. I'm hoping I get into that one, too. Cross your fingers for me!
Other than that, I've just been working on a few sketches for some funky ideas that have been running through my head. I've got this theme about masks that I'd like to work on. It's sort of up in the air right now, but the main thing I have to do is a plaster cast of my face. It's going to be fun, but super messy, I know. If I'm bold enough, I may document the whole process w/ my digital camera.
That's it for now. Signing off.