Thought I'd share our sister trip with y'all. We had such a great time! We listened to CD's on the long drive up and just talked and talked and TALKED. When we finally got up to San Francisco, just as we're standing in front of our cousin's place, guess who called...MISTER SISTER hehe
My cousin's place is really neat and I love their dog. I wish I'd gotten a pic of her for you because she's the raddest dog. Anyways, for the rest of the afternoon/evening, we explored the area around my cousin's apt. We didn't make it to Haight Street like we wanted, but it didn't matter. We were having such a great time hanging w/ our cousin, her yahoo, our other cousin who drove over from Fairfield and some of our friends.
This is us outside this little hole in the wall where we had strawberry margaritas, yummy salsa and guacamole.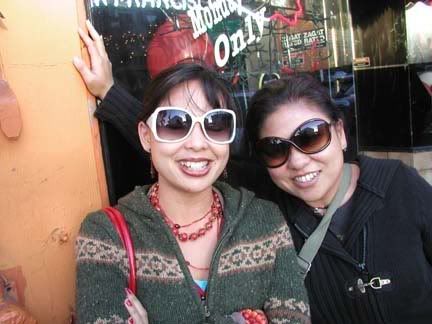 The next morning, my cousin and her husband made us an incredible breakfast. It was so yummy, it was hard to believe it was pretty much all healthy. They had strawberries, blackberries, blueberries (but not snozzberries. :-D ), bacon, turkey bacon, vegan bacon (for their friend), maple yogurt (so DEEELISH!), homemade granola and blueberry coffeecake (courtesy of my talented cousin-in-law...he's quite the cook).
We hung out around the kitchen table casually munching berries, etc and before we knew it, it was time to head out to Carmel...
The drive down to Carmel was pretty uneventful, but a beautiful drive. There was this crazy dude,though, who was yelling "F-You!" and flipping me off. I'm not sure what happened there to cause that. Pretty much all the way from SF to San Jose, I was staying in my own lane while it was trafficky and paying attention to people weaving in and out in front of me. The dude's car had been in the "fast lane" the whole time, no blinker, so it wasn't like I wasn't letting him in. I know I didn't cut him off because I was being crazy careful since I don't know that area so well. Makes you go hmmmm...
Anyways, getting into the Carmel area was just gorgeous. The scenery all around us made the drive very quick. Before we knew it, we were at the Condo that the lady was lending us for the night. She has awesome taste in decorating. Everywhere you turned there was some really neat piece of furniture that was artwork all by itself. THis was my FAVORITE piece that she had hanging in her living room. I love the "Muses", but this was very unique to me: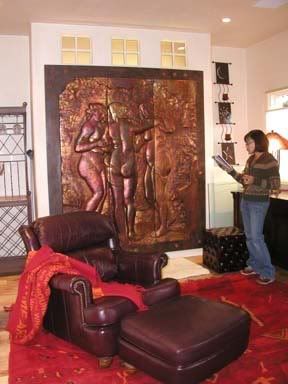 After we settled in and she showed us around, she left to go finish getting the reception room decorated w/ the other parents. I think I mentioned that we were in Carmel to do henna for an after prom event for the high school out there? Anyways, Lu and I went out for a walk and stumbled upon an art fair in the park. Beautiful sculptures and paintings.
We ended up talking a long walk afterwards to explore Carmel. Everything was totally in walking distance so we spent a couple of hours doing this. I'm not kidding you, every other shop is AN ART GALLERY. I can tell you, I was in 7th heaven. At one point we found a bookstore that had a garden attached to it. I'd been thinking in my head, wouldn't it be cool to find a metaphysical store or a garden shop. That's exactly what this was! Attached to the shop was "The Secret Garden" in which I found a statue of St. Francis of Assissi. I've been looking for the perfect one for my garden for months and WE FOUND HIM IN THE SECRET GARDEN!!! Y'all, he's just the happiest St. Francis I've ever seen and he is now currently residing in my herb garden w/ Quan Yin
Fast forward to Midnight. That's when our gig started. We'd had a quick rest at the condo, the one mom/owner came back for us to lead us up to the event. Thank goodness she did because there were so many twists and turns it was scary! THe event was from midnight to 3am and can I just tell you how thougthful and considerate those kids were? Just about every single one of them thanked us for being there and for going out of our way on our sister weekend to do this for them. One of the kids even brought us snackies because she wanted to make sure we were comfortable. So sweet! By the end of the night we were tired, but happy so once we got back to our place, we pretty much passed out on the bed. hehehe
THe next day was the long drive home. Believe it or not, after that late night, we still woke up at 8am to a beautiful, crisp morning. Lu and I walked around the corner to this French coffeeshop to get some coffee and a chocolate croissant (how can you NOT at a French cafe like that?) From there we headed out. Our route took us past wine country, so of course, we HAD to stop. Can you blame us? hehehe We stopped at the Robert Hall Winery, took a little tour of the wine cavern, did a little wine tasting and had lunch out there. Yes, we each bought a couple of bottles of wine. How can you not when it's so tasty??? Incidentally, get the names for their grape crushing machines. There's 2 of them and their names are....LUCY AND ETHEL! (in honor of Lucy's fiasco in an Italian winery. )
Here we are in the courtyard: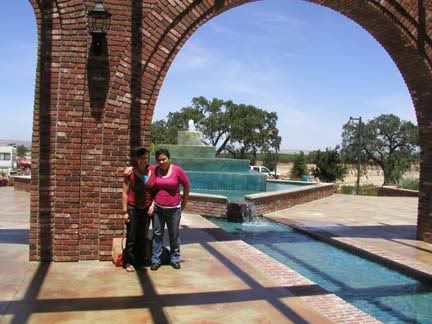 Here are some views from the bell tower: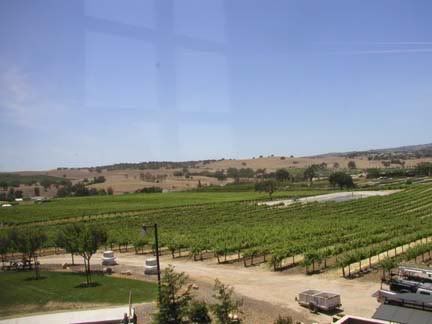 THey had a live band down in this courtyard while we were eating lunch: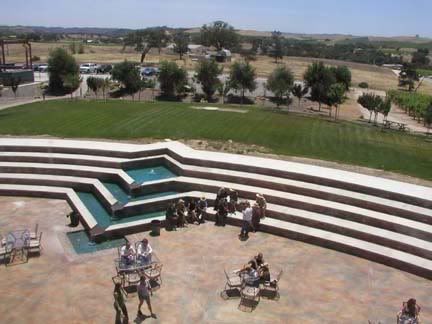 And last but not least, as we drove out towards the I-5 which would take us on the last leg home, we found the "James Dean Memorial" at this one Junction. Further down was the gas station that was his last stop before he was killed in a crash. It has this HUGE sign/painting out front:
Seriously, we weren't even sure the shop was open till we got out of the car to take the pic. We were both bad and bought Almond Roca and Almond bark while we were there.
I logged on 914 miles all around, had long conversations w/ my sis, ate yummy food and saw beautiful scenery. I'm home now, tired still, but smiling because of the great fun we had :D